INSTALLATION: PIGEONHOLED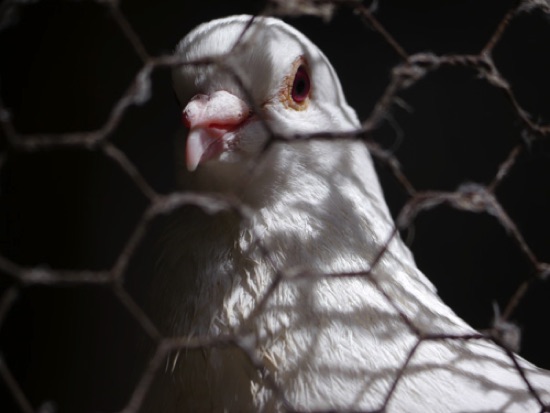 Recently, as I've become "a woman of a certain age", I've begun to experience incidences of ageism, to be stereotyped and treated as an older woman. For an artist hoping to do relevant work, this has been devastating. I've joked that if I hired a handsome young man to be me and present my work, it would be better received and more accepted. This is exactly what I have done for this exhibition.
The project Pigeonholed began, as a lot of artwork does, with inspiration from another artist. The painting known as An Allegory of Venus and Cupid or The London Venus by the Florentine painter Bronzino has fascinated me for a long time. Recently, I noticed a pair of birds in the lower right-hand corner of the picture but wasn't sure if they were pigeons or doves. To most people, a dove represents goodness, purity, the Holy Spirit, peace and love. On the other hand, the infamous line in Woody Allen's Stardust Memories dubs pigeons as nothing more than "rats with wings." They are often treated like vermin, as something to be exterminated. However, while researching the birds, I was amazed to learn that there is absolutely no difference between a pigeon and a dove. They are the identical bird! White doves of peace are simply white pigeons. Nevertheless, we have very strong pre-conceived ideas about each of them. This became the perfect subject for me to the negativity of stereotyping.
Pigeons are amazing birds. They mate for life. Both parents feed and rear their young. They've even been decorated as war heroes. Just like us, they make themselves beautiful, court a mate, make love, nurture their young, and eventually die.
I spent many months taking videos of feral New York City pigeons and was also fortunate to have access to a large dovecote of white pigeons in northern California. I spent days taking videos of these pigeons as well. I edited the footage down to five videos: Preen, Woo, Love, Nurture and Soar. This represents the life cycle not only of pigeons, but also humans, and many other creatures as well.
In addition, I have two photographs in the exhibition. One is the columbarium at the Chapel of the Chimes in Oakland, California. A columbarium is a structure with individual compartments for the ashes of cremated people. It resembles a dovecote, therefore the name "columbarium" which means dovecote in Latin. The second photograph is the interior of the dovecote in northern California. The similarities are strikingly apparent.
The Latin name for pigeon, Columba Livia, means lead-colored bird. The five newspaper pigeon sculptures are reminiscent of lead type and are symbolic of the five videos.
My hope is that this exhibition will encourage people to see the beauty in pigeons and understand that by creating a stereotype, by making uninformed prejudiced judgments, that by creating pigeonholes, we short-change ourselves and miss many opportunities to experience wonder and enrich our lives.